Welcome to Psytronik Software

Welcome to Psytronik Software
- the software label devoted to releasing new games for classic computer systems! We pride ourselves on publishing high quality games for retro systems presented in high quality packaging.  So far there are over 30 titles available including massive hits from
Apex Computer Productions,
the excellent game
Sub Hunter
(voted 2008 game of the year for the C64 by Micro Mart), classics like
Sceptre of Baghdad
and
Escape from Arth
from Jon Wells, superb games from Alf Yngve like
Archetype
&
Cops III
and the
Shoot 'Em Up Destruction Set
.  These titles are available now and there's plenty more great releases in the pipeline!
We don't just cater for the C64 either!  A selection of titles for the
ZX Spectrum
are lined up for release including great games from Clive Brooker and the superb shoot 'em ups
Sanxion: The Spectrum Remix
&
Delta Charge
!
Vic-20
fans can now enjoy the Chuckie Egg style adventures of
Carling the Spider
along with the awesome
Runes of Quest Trilogy
and for all you PC fiends a fantastic new PC conversion of the massive C64 shoot 'em up
Armalyte
has now been released!
I hope you enjoy your visit to the Psytronik Software website!
Kenz / Psytronik (27/10/12)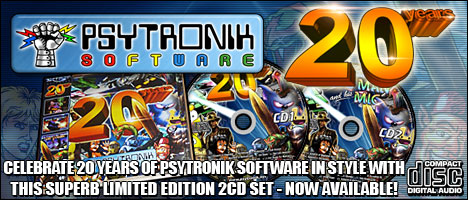 PSYTRONIK SOFTWARE 20 YEARS - 2CD SET NOW AVAILABLE!

Last Updated ( Monday, 13 January 2014 08:15 )