Links Section
This page features links to Psytronik related pages along with various websites that we recommend you visit.


RGCD - Retro game development & publishing!
---

Revival - The all-new retro gaming event for the UK!
---

Alf Yngve's Cheesy Cake Shop - Buy goodies featuring superb artwork by Alf here!
---

 Protovision - Creating new games & hardware for the Commodore 64!
---

The Wild Bunch - The official site for the C64 conversion by Jon Wells
---
Oldschool Gaming - Reviewing new games for classic computers
---
Commodore Computer Club - Supporting all popular 8-Bit Commodorecomputers
---

Commodore Free - The FREE downloadable Commodore mag!
---
 Retro Gamer Magazine - The Essential Guide To Classic Games
---
Retroaction - The Digital Action Retro Magazine is here!
---

Return Magazine - Excellent German 8-Bit Magazine!
---

Manomio.com - The C64 Emulator for the iPhone!
---
Alf Yngve - The A.R.Yngve Homepage

   Warren Pilkington - Zaw Towers

Richard Bayliss - TND (The New Dimension)

Frank Gasking - Games That Weren't
---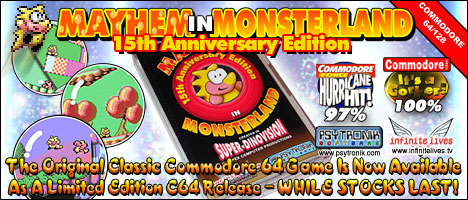 Last Updated ( Tuesday, 02 July 2013 18:57 )