Greenrunner / Redrunner (C64)

NOW AVAILABLE FOR THE COMMODORE 64!
Psytronik Software
in association with
RGCD
are very pleased to present Aleksi Eeben's acclaimed
GREENRUNNER & REDRUNNER
for the Commodore 64. These are two fantastic shoot 'em ups inspired by classic retro games like Centipede, Gridrunner & P.O.D.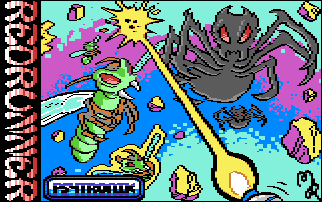 Greenrunner / Redrunner
is available as a Premium C64 disk (presented in a clear plastic 5.25" case with glossy printed artwork + instruction sheet), a budget C64 disk (presented in a glossy colour disk sleeve with full colour label + instruction sheet) and on the tape (presented in a clear cassette case with full-colour cover artwork).  The game artwork was produced by by Miha Rinne. The games have been mastered by Richard Bayliss using Martin Pipers FREELOAD system and feature bitmap loading screens and music that plays while they load.
THIS IS THE VOICE OF THE GREENRUNNER
Released back in 2006 at the Game Over(view) Freestyle Jam, Greenrunner literally blew the competition away with it's frantic arcade gameplay and amazing mix of sampled speech and high quality soundtrack. It's a game so hardcore and visually intense that it's probable that even Jeff Minter would beg for mercy at the thought of having to beat all 100 levels. Grab a friend (or take on the challenge solo), jump into your Cyanitizer and Yellowizer battle craft, buckle up and warm up the four-directional bug-blasting pesticide cannons. This is going to be one hell of a trip.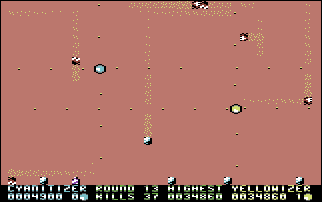 THIS IS THE VOICE OF THE REDRUNNER
One year on, the bugs are back, and this time they are in full colour! Improving on the high-res character based graphics of the original, 2007's Redrunner challenges the player with an all new and improved 100 waves of chaos. Lock 'n' load!


** GAME FEATURES **
· TWO complete games (Greenrunner & Redrunner)!
· Superb digitised speech!
· Awesome retro style arcade ACTION!
· 100 levels in each game!
· 1 or 2 player support!
· PAL
and
NTSC compatible!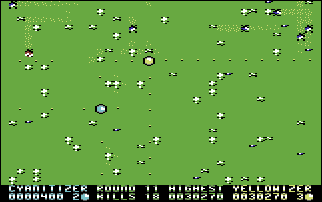 ** GAME CREDITS **
Code: Aleksi Eeben

Graphics: Aleksi Eeben & Twoflower
(Greenrunner Logo)

Music: Aleksi Eeben & Glenn Rune Gallefoss
(Redrunner Title Music)

Speech: Elaine Walker (Greenrunner)
Antti Hukkanen (Redrunner)

Cover Artwork: Miha Rinne

Disk Menu: Richard Bayliss

NTSC Testing: Warlock

NOW AVAILABLE FOR THE COMMODORE 64!

(Available on C64 tape, budget disk, premium disk & cartridge!)


 

 
Last Updated ( Saturday, 27 October 2012 09:08 )