Aviator Arcade II (C64)

** NOW AVAILABLE - CLICK HERE TO ORDER! **
[CLICK HERE TO BUY THE DIGITAL DOWNLOAD FROM ITCH.IO!]
A fast-paced arcade shoot 'em up for the Commodore 64!
AVIATOR ARCADE II is yet another joint release from Psytronik in association with RGCD.  Take control of an ultra-powerful battle-copter and engage enemy forces over a variety of landscapes.  Collect power-ups along the way, you will need them for some of the boss battles that await you!  Good luck!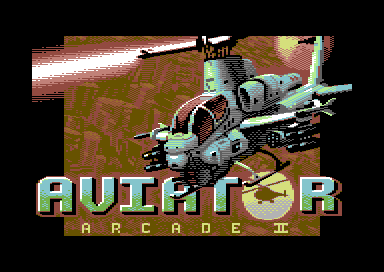 AVIATOR ARCADE II is NOW AVAILABLE to order in the following formats for the C64:-
The PREMIUM PLUS DISK EDITION of the game is presented on a 5.25" floppy disk with full colour double-sided artwork in a clear plastic disk case. This version includes a printed instruction booklet.
The BUDGET DISK EDITION features a 5.25" floppy disk presented in a full colour glossy disk-sleeve with a glossy disk label and printed instruction booklet.
The C64 CARTRIDGE EDITION is now available to order from our chums over at RGCD.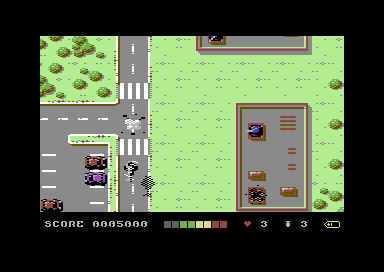 ** AVIATOR ARCADE II STORY **
An unknown militarized terrorist unit, known as the X-Force, has occupied the peaceful city of Suburbia. As the top pilot in the world's anti-terrorist squad the job of defeating the terrorists falls to you!
Flying your state of the art attack helicopter you are sent into what seems to be a straight forward seek-and-destroy mission - but as the story unfolds it will become apparent that the X-Force's goal is more sinister than anyone could have imagined...
Grab your joystick, save the world, and see if you can get that all-time high score!
** AVIATOR ARCADE II FEATURES ** 
 • High paced 50/60 FPS shoot 'em up action!

• 10 levels to blast your way through 

• Superb background and sprite graphics!

• Bosses at the end of each level!

• Weapon and armour power-ups!

• Three difficulty levels, auto-fire and more options!
• High score list and options saved to disk!
• Full PAL/NTSC compatibility!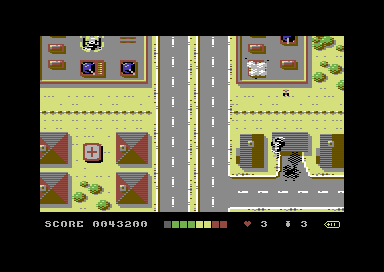 ** AVIATOR ARCADE II CREDITS ** 
Mark Hindsbo
Concept & Code
Saul Cross
Graphics
Thomas E Petersen
Music & SFX 
Jon Egg
Bitmap Loading Screen