Vegetables Deluxe (C64)

Psytronik Software has once again joined forces with Double Sided Games to present to you a special tape release of Vegetables Deluxe for the Commodore 64
.  Vegetables Deluxe is a Match-3 game with crisp high-resolution graphics, a delicious soundtrack and a healthy selection of game modes. Players can choose one of four game modes: casual, classic, shopping and - for the ultimate challenge - Countdown. You'll find yourself playing game after game as you try to beat your high score!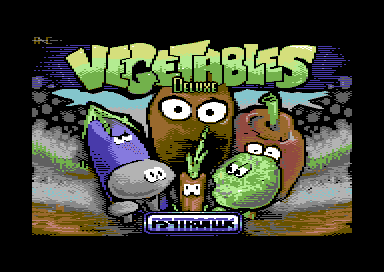 Vegetables Deluxe is NOW AVAILABLE to order from Psytronik Software in standard cassette format and as a special clamshell tape edition (limited to 50 copies).
The game can also be ordered on floppy disk, cartridge and digital download from the Double Sided Games website.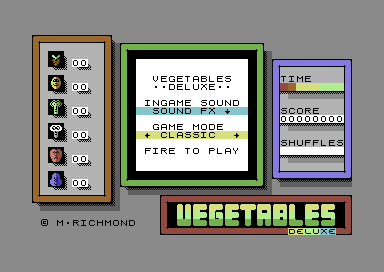 • 4 game modes
• PAL / NTSC compatible!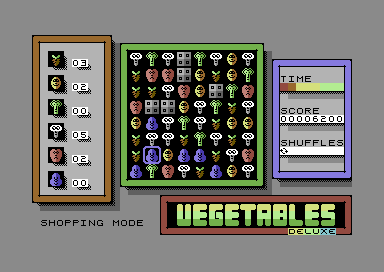 ** CREDITS ** 
Game code, gfx + sfx by Mike Richmond.
Inlay art by TenShu, from an original design by Andrew Cashmore.
Title screen by Andrew Cashmore.
Tape mastering by Richard Bayliss.
Tape loader source by Martin Piper.
Special thanks to Antonio Savona.
Published by Psytronik Software & Double Sided Games