PsykoZone (C64)

This great game by Alf Yngve was part of the original Psytronik Software line-up and was due to be released in 1994. Unfortunately the planned enhancements for the game did not happen and the game was not released - UNTIL NOW! Richard Bayliss has continued the project and has delivered this fantastic enhanced version of Psykozone! The game now features a separate intro sequence (complete with digi-tune by FeekZoid), brand new front-end and extra enhancements including 'get ready' and 'game over' sequences + a cool in-game tune by Matt Simmonds (a rendition of the classic theme from 'Streethawk').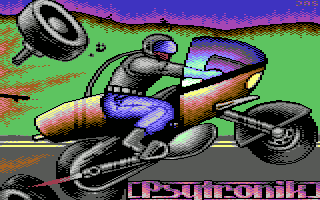 ** PSYKOZONE STORY **
In the twenty first century the United States have collapsed into a myriad of independent regions. Some trade is being made between the regions by using a badly kept net of expressways known as the PSYKOZONE. 

These stretches of road are practically lawless, ruled by gangs of road warriors and genetically-enhanced psycho-bikers. The object of the game is to reach the Pacific ocean by travelling through the most dangerous part of the Psykozone. 

So load up with ammo, oil your engine, fill up your tank, secure the plutonium rods and brake for no-one!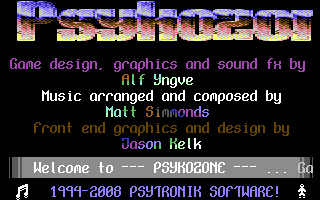 PsykoZone is available on C64 tape and C64 budget disk
(featuring glossy disk sleeve and disk label + printed instruction sheet).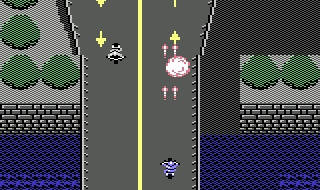 ** PSYKOZONE GAME FEATURES ** 
· Intro sequence featuring story + digi title tune!
· Exciting 'Spy Hunter' style shoot 'em up action from Alf Yngve!
· Slick front end coded by Richard Bayliss
· Cool bitmap loading screen by Jason 'TMR' Kelk
· Excellent music from Matt Simmonds, FeekZoid & Richard Bayliss!
· Brand new glossy full colour artwork!
 ** PSYKOZONE GAME CREDITS ** 

Concept, Story, Graphics, Game Design & Artwork by Alf Yngve
Additional Coding & Enhancements by Richard Bayliss
Loading Screen & Title Screen Graphics by Jason Kelk
Music by Matt '4-Mat' Simmonds & Paul 'FeekZoid' Hannay
Tape Loader by Paul Hughes, Mastered by Richard Bayliss
Packaging Designed by Jason 'Kenz' Mackenzie
Psykozone artwork coloured by Jon Wells