Joe Gunn - Gold Edition (C64)

Due to popular demand the excellent C64 game Joe Gunn is now available from Psytronik Software for the C64.  The game is currently available on C64 tape (presented in a clear cassette case with full colour inlay) and C64 budget disk (presented with a glossy disk sleeve and label with an instruction card).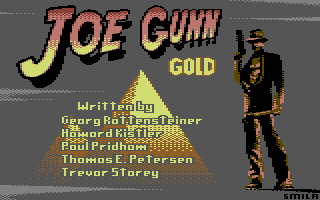 ** JOE GUNN STORY **
You are Joseph J. Gunn. Archaeologist by passion. By chance you stumbled upon an unknown pyramid in the desert of Egypt. You suspect it to be the long lost tomb of the Crocodile King. The king whose name has been erased from history as if nobody should ever know of his existence. 
Can you enter the tomb, solve it's secret and escape alive again? 
Puzzles, traps and ancient enemies await you...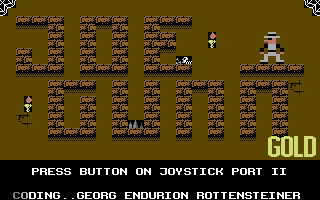 ** JOE GUNN FEATURES **
· Special GOLD version of the game featuring extra content! 

· More than 70 rooms with puzzles and enemies. 

· 2 bosses to puzzle-fight it out with. 

· Cover artwork designed by Trevor 'Smila' Storey. 

· Disk includes both the English and German versions of the game!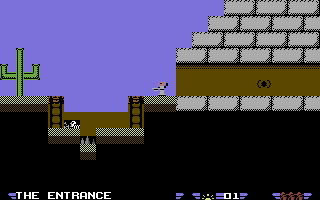 ** JOE GUNN GAME CREDITS **
Coding by Georg 'Endurion' Rottensteiner

Graphics by Paul 'Madgarden' Pridham & Howard 'Codex' Kistler 

Music by Thomas E. 'Laxity' Petersen 

Title screen & cover artwork by Trevor 'Smila' Storey 

Additional packaging design by Jason 'Kenz' Mackenzie 

Disk menu code & music by Richard Bayliss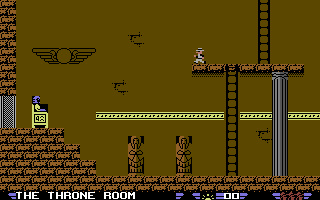 ** BONUS DISK ITEMS **
The disk version of Joe Gunn also features an exclusive demo of the stunning Psytronik release 
Knight 'n' Grail
. This the second demo of the game to be released and this version contains extra features that will be included in the full game along with brand new sound effects!