The Wild Bunch (C64)

The fantastic C64 conversion of the classic Spectrum / Amstrad Western adventure 
The Wild Bunch
 is now available on DISK from Psytronik Software. C64 coding hero 
Jon Wells
 has been working on this C64 conversion of the game for YEARS and now at long last you can order the game either as an authentic 
Firebird Software
 style tape version or a Psytronik Software 
Premium Disk Edition
 ... !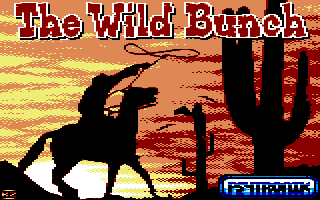 Please note that as a 
SPECIAL OFFER
 the postage for the game is 
FREE
 for everybody who orders the game from the Binary Zone Interactive retro store!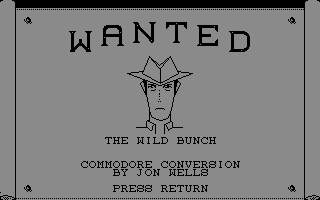 This 
Premium Edition
 disk version of 
Wanted: The Wild Bunch
 is presented in a classic-style clear plastic case (the same style as cases used by Ocean, Rainbow Arts and System 3 for some of their disk releases) with stunning full-colour cover artwork. The disk itself is presented with a full colour label and glossy disk-sleeve making this an excellent collector's item! As an extra bonus the Premium Disk Edition also includes a FREE C64 audio music CD. The CD is packed with classic Western themes from C64 games including a selection of tracks from the C64 version of 
Wanted: The Wild Bunch
.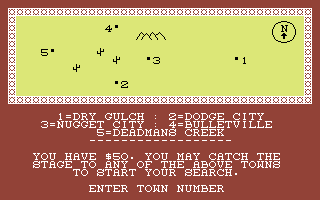 The tape version of the game is presented in a clear cassette case with a unique full-colour REVERSIBLE tape inlay. The front of the inlay is done in the style of the more 'modern' Firebird Software releases and the back is done in the earlier "classic" Firebird Software style. You can turn the inlay around to display whichever version of the artwork you prefer.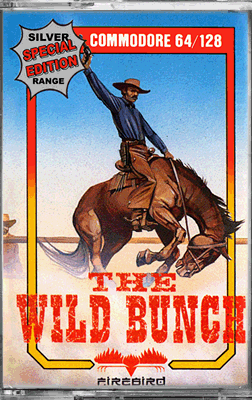 ** WANTED: THE WILD BUNCH STORY **
A man has been shot and you are discovered with a smoking Colt 45 at the scene of the crime. The Sheriff has set a Pinkerton Agent on your trail while you attempt to identify and capture the member of the Wild Bunch who commited the murder, and bring him to justice. 
Hunted by the law and on the run, you must keep your strength up and avoid getting killed by playing poker for food, guns and ammunition. And it takes strength and guts to face a showdown with The Wild Bunch..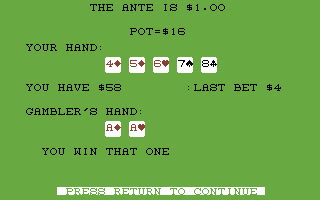 ** WANTED: THE WILD BUNCH FEATURES **
· Superb C64 conversion of the Spectrum / Amstrad adventure! 
· Enhanced gunfight scene featuring sampled sounds! 
· Over 40 in-game tunes / music jingles! 
· Improved presentation + graphics! 
· Disk version includes separate intro + end sequences! 
· Tape version features unique reversible tape inlay design! 
· Premium disk package includes FREE C64 music CD! 
· PAL 

and

 NTSC compatible!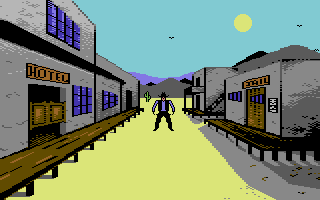 ** WANTED: THE WILD BUNCH CREDITS **
C64 Graphics, Programming, Music & SFX by
Jon Wells
Packaging + additional graohics by
Jason 'Kenz' Mackenzie
Original Spectrum / Amstrad CPC Version by
Kevin Smith
Tape mastering and compression by
Richard Bayliss
Tape loader source by
Martin Piper