Phase Out (C64)

Developed by Ernst Neubeck and Simon Quernhorst, 
Phase Out 
is a game that will put your puzzle-solving skills to the ultimate test.  Play the role of a vengeful banished deity and bring an end to the universe by completing the 50 ancient stone challenges of the Eternal ones.  Fail and you'll remain in exile forever ... 
Succeed and unlimited power will be yours!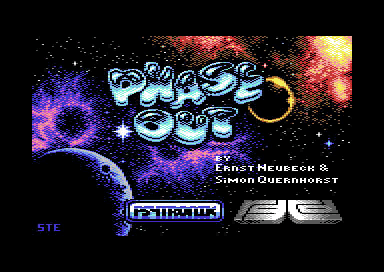 For countless aeons you've waited in exile beyond the limits of the universe, but now your time for revenge is at hand.  In your possession are the ancient stones of the Eternal Ones - and with them the power to overthrow the Gods and eradicate all of creation!  50 Phase-Out sequences are all that stand between you and the end of the universe, your one and only chance to undo all the work of your ethereal oppressors and to rebuild the cosmos to your own design ...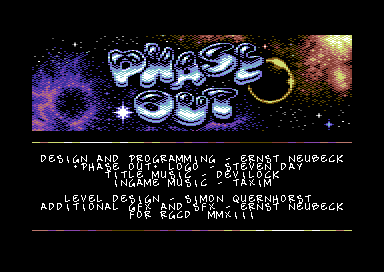 PHASE OUT 
is NOW AVAILABLE from Psytronik Software in the following formats:-
C64 tape - presented in a clear cassette case with full-colour glossy inlay. 
 Budget C64 disk - presented in a glossy disk sleeve with full colour label. 
Digital Download
 - NOW AVAILABLE from the 
INC-X shop
.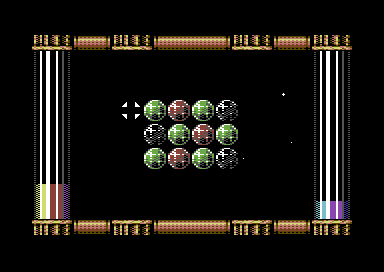 ** PHASE OUT FEATURES **
• 50 levels of great brainwork


• 

Colorful title and in-game graphics


• 

Superb title and in-game music


• 

Optional in-game sound effects


• 

Easy to use level password system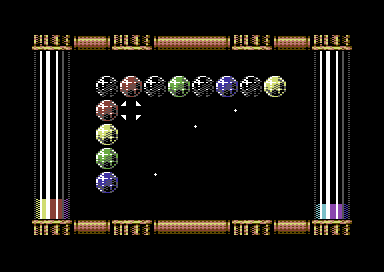 ** PHASE OUT CREDITS **
Design, Coding, Game Artwork & Sound Effects: Ernst Neubeck

Level Design: Simon Quernhorst

Phase Out Logo, Loading Bitmap & Box Artwork: Steven Day

Title Music: Peter 'Devilock' Siekmann

Game Music: Alex 'Taxim' Ney

Manual: James Monkman

Tape Mastering: Richard Bayliss

Tape Loader Source: Martin Piper

Cartridge Conversion Support: Dr. Martin 'Enthusi' Wendt

Cartridge Hardware: Tim Harris