Kung Fu Maniacs Trilogy (C64)

Take control of the MASTER OF AWESOME on a trilogy of action-packed quests riddled with deadly ninjas that are hell-bent on making sure our hero has a very bad day. Collect Scrolls of Awesome Mystic Knowledge™ along the way to enhance your powers, avoid devious traps and battle your way through various environments to complete your quests. Don't be good or great, be AWESOME!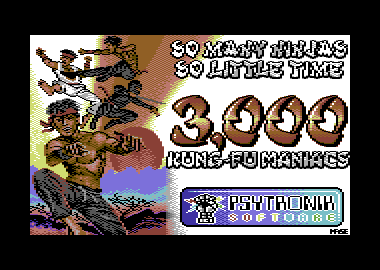 THE KUNG-FU MANIACS TRILOGY 
is NOW AVAILABLE from Psytronik Software in the following formats:-
C64 tape - presented in a clear cassette case with full-colour glossy inlay. 
 Budget C64 disk - presented in a glossy disk sleeve with full colour label. 
  Premium+ C64 disk
 - 
presented in a clear case with full-colour double-sided inlay.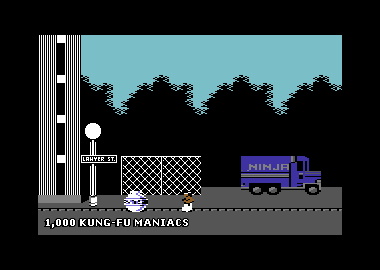 ** KUNG FU MANIACS STORY **
Of all the martial arts in the history of artful pummeling, the ART OF AWESOME is unique. Awesome alone can use ANY object as a weapon, as long as it is wielded by a Master – a man whose mind is as pure as a wooden plank. This is the tale of one such Master, of his three quests to vanquish ninjas, and the property damage he caused.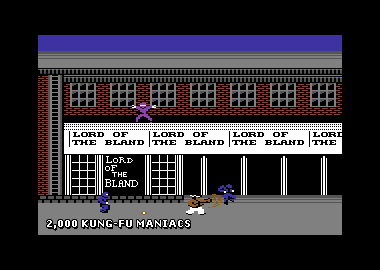 ** KUNG-FU MANIACS TRILOGY FEATURES **
• Three complete games filled with Kung-Fu ACTION!
• Slick front-end presentation + in-game enhnacements! 
• Intro and end sequences! 
• Superb bitmap loading screens!
•
Oliver Frey
artwork!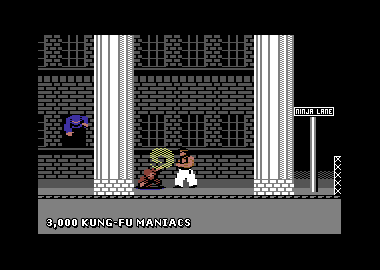 ** KUNG FU MANIACS TRILOGY CREDITS **
Alf Yngve - Game Design / GFX / Storylines
Richard Bayliss - Front-Ends / Enhancements / Music
Jon Wells - Music (1,000 Kung-Fu Maniacs)
Carl 'Mase' Mason - Bitmap Loading Screens
(1,000 + 3,000 Kung-Fu Maniacs)
Jason 'Kenz' Mackenzie - Game Packaging +
Bitmap Loading Screen (2,000 Kung-Fu Maniacs)