Knight 'n' Grail Ultimate Edition (C64)

** ULTIMATE EDITION! **
** CLICK HERE TO ORDER! **
At long last the incredible C64 game 
Knight 'n' Grail
 is available in a stunning 
LIMITED EDITION COLLECTOR'S BOX SET
! The game has been completely re-packaged and this special box set contains an array of exciting 
Knight 'n' Grail
 bonus extras. The 
ULTIMATE EDITION 
of 
Knight 'n' Grail
 is presented in a deluxe A5 box with glossy front and rear artwork.
PLEASE NOTE: Only 100 x 
Knight 'n' Grail Ultimate Edition
 box sets have been produced in total so please register your order quickly in order to avoid missing out! 
Already own the game and don't want to buy it again? Don't worry, an ULTIMATE UPGRADE is available that features everything in the box set apart from the actual game itself! CLICK HERE FOR DETAILS!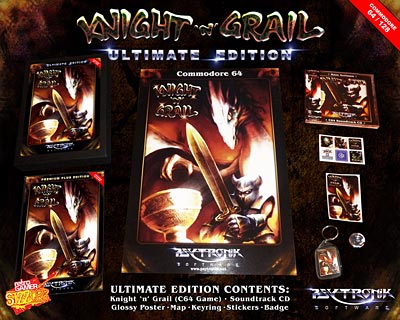 larger image
KNIGHT 'N' GRAIL ULTIMATE EDITION
BOX CONTENTS:-
• Deluxe A5 individually numbered box featuring full colour front + rear artwork. 

• Knight 'n' Grail C64 disk presented in new full colour PREMIUM+ packaging. 

• Stunning double-sided A3 map showing every single screen / secret / object / enemy along with hints & tips + cast of creatures! 

• 40 track music CD featuring the complete KnG C64 soundtrack, KnG musical sketches + remixes, the Fairy Well C64 soundtrack + bonus C64 tunes by Hans Axelsson! 

• Super-glossy A3 artwork poster! (Note: This will be packaged ROLLED to avoid creasing rather than folded). 

• KnG Keyring (featuring different front + back designs)! 

• KnG Button Badge! 

• Cover-art sticker! 

• Set of 6 KnG mini-stickers! 

• Bonus C64 game 'Fairy Well' from KnG author Mikael Tillander!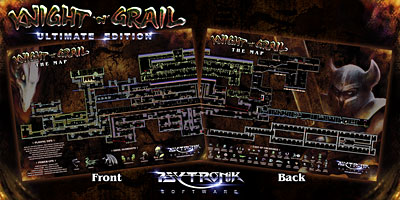 larger image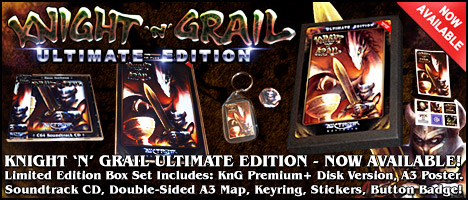 ** KNIGHT 'N' GRAIL REVIEW QUOTES **

"Knight 'n' Grail is hugely enjoyable to play" - 94%" (Retro Gamer Sizzler) 

"A rather splendid and intelligently designed 2D platform game" (9/10 Micro Mart)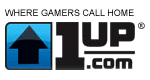 "Heck, I'd say you have a moral imperative to grab a copy" (1UP.com)