Relentless (Amstrad CPC)
Psytronik Software proudly presents RELENTLESS - A brand new shoot 'em up from the creator of the excellent CPC blasters Star Sabre, Sub Hunter CPC & Dead on Time - Paul Kooistra.  Relentless is a stylish blaster for the Amstrad CPC range that features superb retro-style graphics, smooth scrolling and intense shoot'em up ACTION!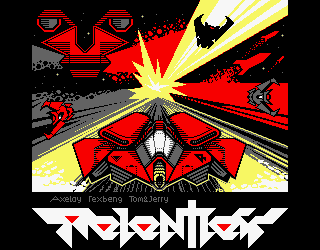 ** RELENTLESS STORY **
An accident involving a dimension portal and a very large explosion has blasted a hole between dimensions!  From outof the 7th dimension a series of strange and unbelievable environments have been projected, along with streams of bizarre & aggressive beings.  It's up to you to collapse these dimensional protrusions by blasting your way to the end zone, but watch out, the enemy are 
Relentless
!
 ** RELENTLESS FEATURES ** 
· Smooth scrolling arcade ACTION!
(CPC monitor recommended for best results)
· Exclusive Amstrad CPC tape ONLY release!
· Tape includes intro, Relentless game + Relentless teaser!
** RELENTLESS CREDITS **
Code & SFX by Paul Kooistra 
GFX + Inlay Artwork by Harris Kladis
Music by Herve Monchatre