Sub Hunter (C64)

A scientific experiment to increase the size and number of fish in the sea has gone terribly wrong and now the oceans have been taken over by mutant fish. You must destroy the fish and save the swimmers who have become stranded in their midst. Watch out for agent subs that will do anything to keep this a secret ... You are the SUB HUNTER!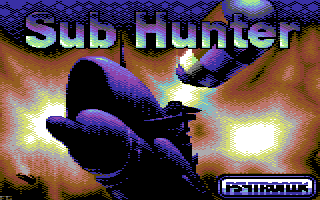 This fantastic C64 game from Richard Bayliss & Frank Gasking is NOW AVAILABLE from Psytronik Software! Sub Hunter features 25 levels of sub-aquatic action, amazing multi-layered parallax scrolling, fantastic intro sequence, superb detailed graphics, varied missions including shoot 'em up levels, rescue missions and terrifying boss encounters.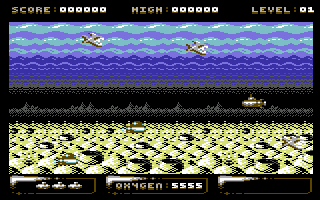 Sub Hunter is now available on C64 Premium+ disk, budget disk and tape.
** SUB HUNTER GAME CREDITS ** 

Programming - Richard Bayliss
Graphics + loader screen artwork - Frank Gasking
Music - Maniacs of Noise
Cover design by Jason Kelk and Jason 'Kenz' Mackenzie
Tape mastering - Richard Bayliss
Tape loader - Paul Hughes
** BONUS DISK GOODIES ** 

As well as the complete Sub Hunter game the disk versions also contains the following bonus items: 

Sub Hunt '20 - A version of the original classic VIC 20 game.
This C64 conversion was produced by Richard Bayliss and Frank Gasking. 

SFX Demo - The sound effects that were originally meant for the game. Due to various problems with memory and code clashing, these could not be included in the game. The SFX were produced by Richard Bayliss with the Maniacs Of Noise SFX Editor (MONASE). 

Music Demo - A selection of tunes from various Sub Hunter previews, and also some exclusive tunes as well. 

Prototype Demo - How Sub Hunter all started. 

First Demo - A more advanced version of the Prototype Demo featuring graphics by Frank Gasking. 

Unopened Chest - A demo featuring a loader picture by Mark Watkins that was not used in the game. It was replaced by the Ocean tribute pic by Frank Gasking. 

Sub Duel - A 2 player only game, that features 2 subs duelling against each other.
** SUB HUNTER REVIEW QUOTES ** 

"Excellent music, great visuals, lots of variety - 90%" (Retro Gamer)

"Richard Bayliss's finest hour" (Micro Mart)