My Life (C64)
[DIGITAL DOWNLOAD NOW AVAILABLE FROM ITCH.IO!]
From the team that brought you the smash C64 hit DARKNESS comes MY LIFE!, the spiritual successor to the classic arcade game MIKIE!  
Take control of Eugene, a hapless chappie, who has to work his way through a stressful week in order to earn a well-earned sleep-in at the weekend.  Avoid all manner of meanies including vicious vacuum cleaners, rampaging roadsweepers, terrible toddlers, scary security guards and more as you stomp your way through each screen.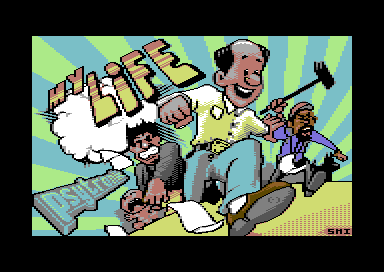 My Life is NOW AVAILABLE from Psytronik Software in the following formats:-
C64 clamshell LIMITED EDITION tape
 - presented in a plastic
'Imagine style' moulded cassette case with full-colour glossy inlay. 
C64 standard tape - presented in a clear cassette case with full-colour glossy inlay. 
 Budget C64 disk - presented in a glossy disk sleeve with full colour label. 
  Premium+ C64 disk
 - 
presented in a clear case with full-colour double-sided inlay.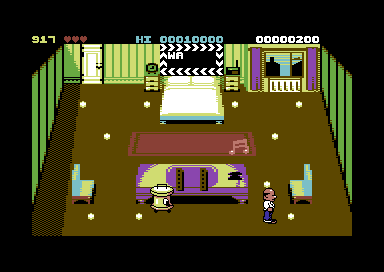 ** MY LIFE STORY **
Eugene was a popular teenager, the girls loved him and the 
boys wanted to be like him.  Over the years however, life has taken its toll on poor Eugene. His hair has done a runner and his waistline has expanded.  Add to that his whole week revolves around a job he can't stand with a boss who hates him.  Every weekday he has to wake up early and make his way to the office hoping he can find his keys, that his car will start and that he doesn't get a ticket from the evil security guards.  Can you help Eugene stomp his way through the week so 
 he can finally get that friday feeling and have some nice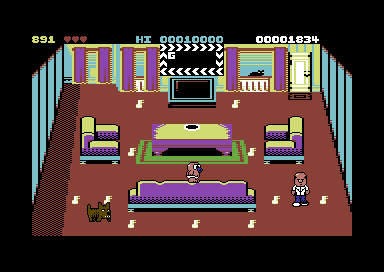 ** MY LIFE FEATURES **
• 20 screens to stomp your way through!
• Tons of catchy tunes and arcade style jingles!



• Fantastic colourful cartoon graphics and detailed characters!





• Stunning authentic retro-style packaging!
• End scene - if you can reach it!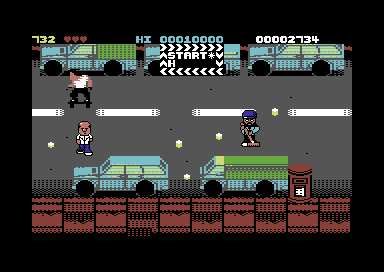 ** MY LIFE CREDITS **
GFX and Design by Trevor Storey
Code by Achim Volkers
Music & SFX by Saul Cross
Cover art and packaging designed by T
revor Storey