Hammer Down (C64)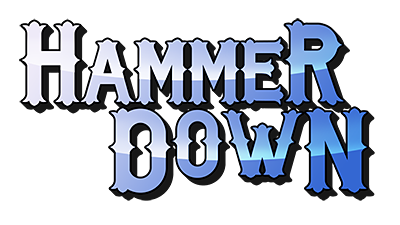 ** COMING SOON! **
Now you can re-live the halcyon times of C64
 gaming with this superb tribute to 
classic Mastertronic games like Action Biker and The Last V8 with this brand-new C64 release HAMMER DOWN
!  Get on your bike and carefully negotiate the tricky map collect all the items and bonuses scattered around the town.  If you feel the need for speed then just put the HAMMER DOWN!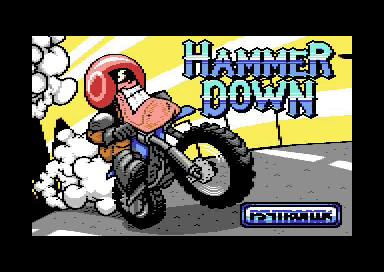 HAMMER DOWN
will be AVAILABLE SOON from Psytronik Software in the following formats:-
C64 tape - presented in a clear cassette case with full-colour glossy card inlay. 
 Budget C64 disk - presented in a glossy disk sleeve with full colour label + glossy instruction card. 
  Premium+ C64 disk
 - 
presented in a clear plastic case with full-colour double-sided inlay.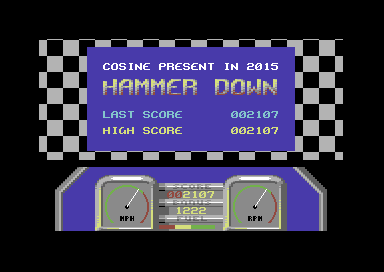 ** HAMMER DOWN FEATURES **
• Huge smoothly scrolling map to explore!
• Lots of items and bonuses to collect!
• Superb selection of catchy soundtracks!
• Funky soundtracks from Sean 'Turbocharge' Connolly!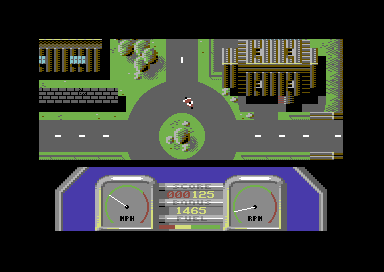 ** HAMMER DOWN CREDITS **
Jason Kelk - Design / Programming / GFX
Sean Connolly - Music / SFX / Tape Loader
Lasse Oorni
 - Disk Loader
Steve 'Ste'86' Day
 - Loading Bitmap
Trevor 'Smila' Storey
 - Inlay Artwork
Jason 'Kenz' Mackenzie
 - Game Packaging