Planet Golf (C64)

 VISIT THE SECURE PSYTRONIK STORE FOR
ALL AVAILABLE PHYSICAL GAME RELEASES!
Here we have the latest C64 production from Antonio Savona, who also produced the polished hi-res one-button snakey game p0snake.  For Planet Golf Antonio has produced a stunning 2D golf simulation that takes place on 5 different planets in the solar system!  Packed with innovative touches, flawless presentation, superb sampled speech + fx and humourous touches this is an unmissable release for C64 gamers!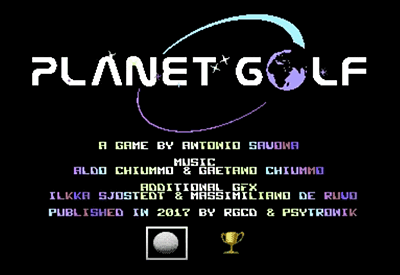 ** PLANET GOLF STORY **
In 1971 the Apollo 14 landed two men safely on the moon.
Commander Alan Shepard spent more than 9 hours collecting lunar artifacts and performing several scientific experiments.
And playing golf.
36940 years have passed since that day. Mankind has long colonized the entire solar system and space tourism is now a reality. Specially designed suits allow men to withstand the extreme conditions of open space and walk unharmed on other planets' surfaces.
And play golf.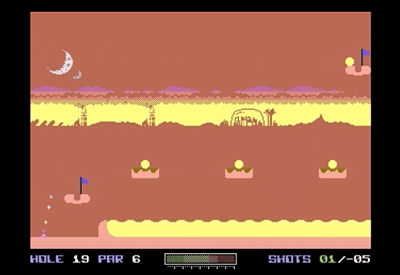 ** PLANET GOLF FEATURES **
· Play golf on 5 different planets in the solar system
· 99 playable screens in total
· 1 or 2 player modes
· Superb digitized speech + sound fx
· Realistic physics & gravity simulation
· Stunning hi-res graphics + animations
· Cinematic intro with digitized audio + video
· PAL and NTSC compatible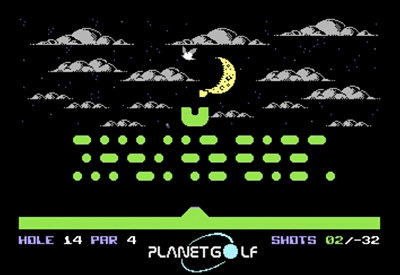 ** PLANET GOLF CREDITS ** 
Coded by Antonio Savona
Music by Aldo Chiummo & Gaetano Chiummo
Gfx by 
Ilkka Sjöstedt & Massimilano 
'WiZkiD' De Ruvo
Inlay art by Oliver Frey

Packaging by Jason 'Kenz' Mackenzie