Mancave (C64)

Psytronik Software is proud to present MANCAVE, a game from the team that produced the fun scuba-romp EXPLODING FISH.  MANCAVE follows the hilarious adventures of Richard Morningwood (heh!) who has the unfortunate task of gathering up the pages of some rather naughty magazines that have been nabbed from his secret stash by his pesky kids!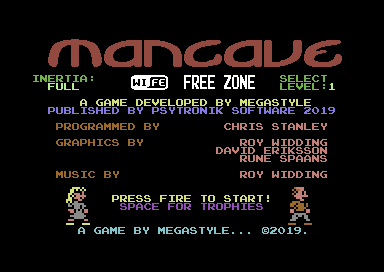 MANCAVE is NOW AVAILABLE from Psytronik Software and is available to order in standard cassette format, a special clamshell tape edition (limited to 50 copies), budget C64 disk and premium+ C64 disk.
The game is also available as a digital download which can be played in C64 emulators, on the C64mini or ported back on to a real C64 if you have the facilities to do so.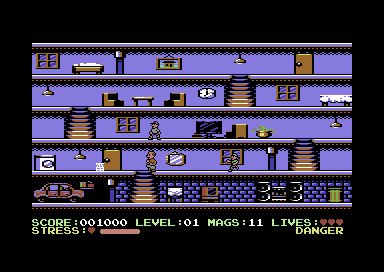 The game revolves around our hero, Richard Morningwood. Father to two brat kids, Brad and Kyle. Husband to the long-suffering Betty. Son-in-law to the totally terrifying Fannie.
Arriving home from work one evening, Richard sees that his precious man cave has been turned inside out by his mischievous kids. They have discovered his secret stash of adult magazines from his days as a teenager and spread them all around the house for his wife to find! This has done nothing good for his already extreme stress levels and his poor heart is now working overtime.
The player must guide Richard around his house and collect up all his magazines before his rising stress levels have fatal consequences!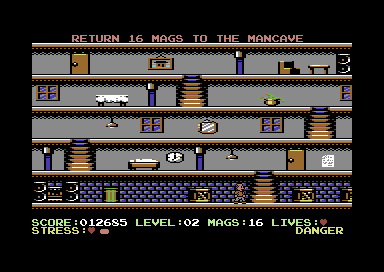 ** FEATURES ** 
 •
Detailed hi-res characters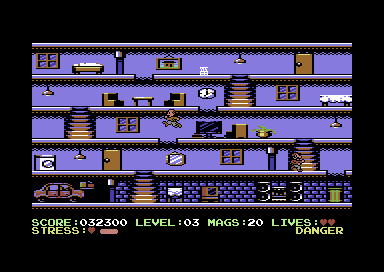 ** CREDITS ** 
Programmed by Chris Stanley
Graphics by Roy Widding & David Eriksson
Music by Roy Widding
Loading screen by Rune Spaans
Inlay art by Trevor 'Smila' Storey
Additional packaging design by Jason 'Kenz' Mackenzie
A Megastyle Production © 2019
Published by Psytronik Software