Jam It! (C64)

JAM IT
is an arcade style 2-on-2 basketball game for the Commodore 64.
Do you get confused by complex button combinations in modern basketball video games? In
Jam It
, just one button with your control stick is enough to make extreme dunks, jump-shots, blocks, passes, post-up plays and steals!
Featuring the most intense sports action and entertainment ever crammed into 64K!


** JAM IT FEATURES **
• Supports 1 - 4 simultaneous players

• Realistic and challenging AI 

• 4 difficulty levels 

• 3 unlockable bonuses 

• In-game on-screen commentary 

• Halftime show mini-game 

• Comprehensive statistics 
• PAL & NTSC compatible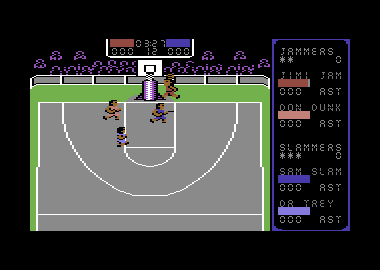 ** JAM IT CREDITS **
Design, Code, Graphics and Audio:
Carl 'Mase' Mason 

Title Music:
Joachim 'Yogibear' Wijnhoven & Roland 'NEO' Hermans 

Cartridge Packing:
Georg Rottensteiner & Martin Wendt 

Disk & Tape Mastering:
Braden, Sikkaz, Novastorm, Max, Sketch, DWZ, Ping, Andry G, Jodi G, Ed B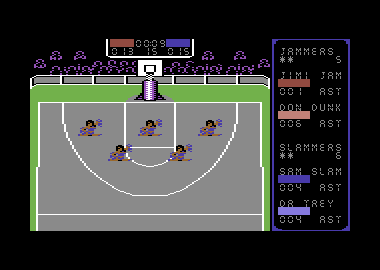 The cartridge version of JAM IT will be