Archetype & Cops 3 (C64)

Thanks to the amazing response we had to the 2008 re-release of Sceptre Of Baghdad I have also repackaged and re-released the second Psytronik Software C64 release too! The 2008 version of the Archetype & Cops 3 twin-pack features brand new full colour packaging produced in the Binary Zone Interactive studio exclusively for this release. The inlay cover also features a new full colour version of the original Alf Yngve artwork - and this special colour artwork was produced by none-other than Sceptre Of Baghdad author Jon Wells!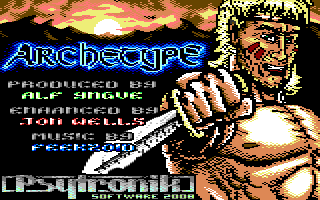 The tape has been remastered for this re-release and contains special new versions of both Archetype & Cops 3. Archetype now features a brilliant new loading system (installed by Richard Bayliss) and the game now includes the amusing intro sequence by Jon Wells which wasn't actually included with the 1994 tape version! Cops 3 also features a new loader and both games feature brand new bitmap loading screens which have been specially produced for this 2008 release!  The disk version has also been updated and both games now include the new bitmap loading screens that have been created specially for this release.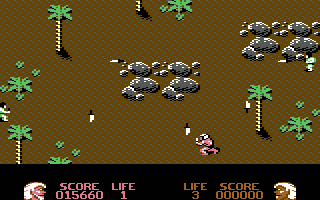 Archetype & Cops 3 available on C64 tape and C64 budget disk
(featuring glossy disk sleeve and disk label + printed instruction sheet). 
 ** ARCHETYPE GAME CREDITS ** 
Concept, Story, Graphics, Game Design & Artwork by Alf Yngve
Additional Coding, Enhancements, Intro + Artwork Coloured by Jon Wells
Music by Paul 'FeekZoid' Hannay
Inlay artwork by Alf Yngve
Tape Loading Software by Paul Hughes
Tape Loader installed by Richard Bayliss
Loading Screen by Jason 'Kenz' Mackenzie
Packaging by Jason 'Kenz' Mackenzie
** COPS 3 GAME CREDITS ** 
Concept, Story, Graphics and Game Design by Alf Yngve
Additional Coding by Phil Nicholson
Music by Chris Lightfoot (TLF)
Tape Loading Software by Paul Hughes
Tape Loader installed by Richard Bayliss
Loading Screen by Jason 'Kenz' Mackenzie