Sceptre of Baghdad (C64)

 The C64 version of Sceptre Of Baghdad was written by Jon Wells and was was originally released in 1993 on the Psytronik label.  As we only had very limited resources at that time the game was presented in simple packaging with a photocopied inlay. The game was re- released on the Commodore 64 in 2008 complete with brand new full colour artwork.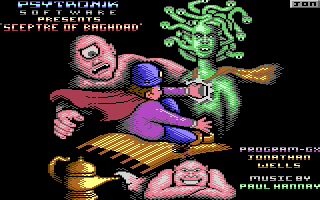 Sceptre of Baghdad is now available on C64 tape and C64 budget disk
(featuring glossy disk sleeve and disk label + printed instruction sheet).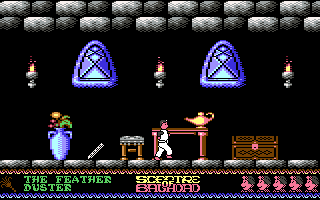 ** GAME CREDITS ** 

All game code + graphics by Jon Wells
Music by Paul 'FeekZoid' Hannay
Cover artwork by Alf Yngve
Artwork coloured by Jon Wells
Packaging by Jason 'Kenz' Mackenzie
"Sceptre Of Baghdad will keep you engrossed for hours" - 91%
(Retro Gamer Sizzler)