Flubble & Squij (C64)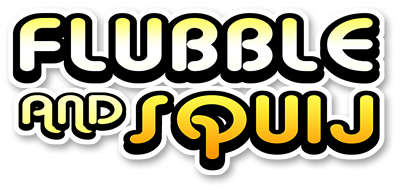 Here it is at long last - the official Psytronik release of 
Flubble & Squij
 for the C64! This was originally meant to be released as part of the first wave of Psytronik releases back in 1994 but didn't quite make the original line-up - but now it's HERE at last! Featuring NEW artwork, NEW loading bitmaps, NEW music and a bonus REMIXED version of the game!!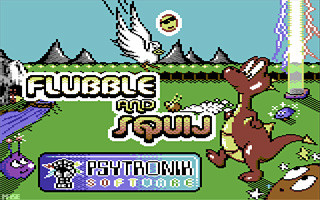 Flubble & Squij
 is now available from Psytronik as a 
Premium C64 disk
 (presented in a clear plastic 5.25" case with glossy printed artwork), a 
budget C64 disk
 (presented in a glossy colour disk sleeve with full colour label) and on 
tape
 (presented in a clear cassette case with full-colour glossy inlay).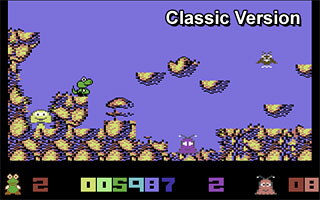 ** STORY **
The normally peaceful day-to-day existence of Flubble has been rudely interrupted by the unexpected arrival of some nasty alien creatures! The creatures have frightened Flubbles friends, the timid Squij's, causing them to run away and hide. As Flubble is a decent little dragon he has taken it up himself to collect all the Squij's to keep them safe from harm. Flubble can eat tasty MAGIC MUSHROOMS along the way - which can both help or hinder him, depending on the effect they have on him. You must help Flubble to find all the Squij's on each level, avoid the roaming creatures - or splatter them using your tail-spin attack, and once you have found all the Squij's, escape to the next level via the exit duct. 
** GAME FEATURES **
• Super-smooth scrolling! 
• Cute character sprites! 
• 8 levels to explore! 
• Excellent bitmap loading screens! 
• Package includes classic & remix editions!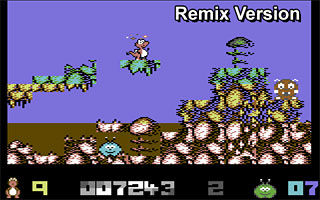 ** GAME CREDITS **
Game produced by Kevin Murphy & Damian Steele. 
Music by Richard Bayliss. 
Cover art by Trevor 'Smila' Storey. 
Loading bitmaps by Carl 'Mase' Mason. 
Tape mastering by Richard Bayliss. 
Tape loader by Martin Piper. 
Remix version by Jon Wells with music by FeekZoid.