Outrage (C64)

Psytronik Software
in association with
Protovision
are proud to present
OUTRAGE
- A C64 game by
Cosmos Designs
- 30 years in the making!
OUTRAGE can now be ordered as a COLLECTOR' S EDITION in a stunning full colour printed glossy box that contains the C64 game on 5.25" floppy disk with fantastic artwork by Trevor Storey. Premium+ and budget disk editions of the game are also available. 
[Additional OUTRAGE items will also be available to buy separately].
 [A cartridge + disk version is also available from Protovision]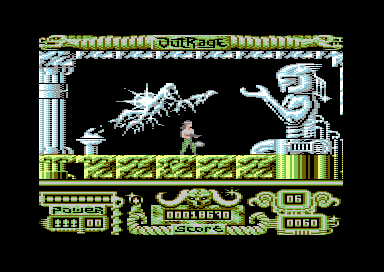 ** OUTRAGE HISTORY ** 
The coding of Outrage was originally started in 1990 by Bernd Buchegger. An alpha version of the game was completed in 1992. The game was submitted to a game competition run by BOEDER & 64'er and was selected as a winner! The prize included a publishing contract for the game. Sadly this was not to be as BOEDER ceased publishing for the C64 soon after.
In 2001 the game code was resurrected and in 2005 a release was planned by Protovision. The release didn't happen at the time as more work was required to bug-fix & fine-tune the game. Thanks to the hard work of the ever-expanding Outrage team the extra work required to complete the game was carried out in 2018 & 2019.
And now in 2020 Psytronik & Protovision are pleased to present beautifully packaged versions of the game for the C64!
[A more detailed history of the game is available HERE].
** FEATURES ** 
· 5 levels fully packed with finest arcade action
· 
Each level with a monstruous end boss
· 
A shop to buy ammunition, smartbombs and more
· 
Colorful graphics, animations and special effects
· Beautifully crafted SID in-game music and sfx
· PAL

and

NTSC compatible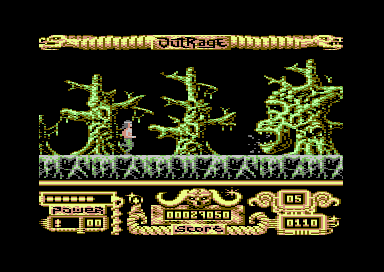 ** CREDITS ** 
Game concept & code: Bernd Buchegger
Graphics: 
Bernd Buchegger
Original title + doc music: Karl Sommer
In-game music and sfx: Roy Widding

Loading picture: Steve Day
Loader system: Lasse Öörni 
Packaging Artwork: Trevor Storey
Additional packaging design: Kenz